In the colourful tapestry of India's fashion industry, ladies' footwear online in India has long been burdened by misconceptions and conventional standards. The expression of identity and uniqueness has been hampered by the pervasive idea that "one size fits all" designs. It is essential for the fashion industry to shed these outdated ideas and embrace the spirit of inclusion and diversity as trends change.
It is important to recognise the fashion industry's important role in advancing inclusiveness and diversity as a strong platform for social change. Fashion has the opportunity to express diversity and empower women by acknowledging the relevance of different body forms and cultural origins. This key concept serves as the foundation of JackieHeels' ideology, a company devoted to fashionable trends and unmatched comfort.
This blog's main objective is to draw attention to outstanding companies like JackieHeels that reject traditional thinking in favour of diversity and acceptance of one's body. JackieHeels takes pride in meeting the requirements of every woman by challenging preconceptions and providing a wide variety of current designs.
Stereotypes Shattered: Footwear for Women of All Ages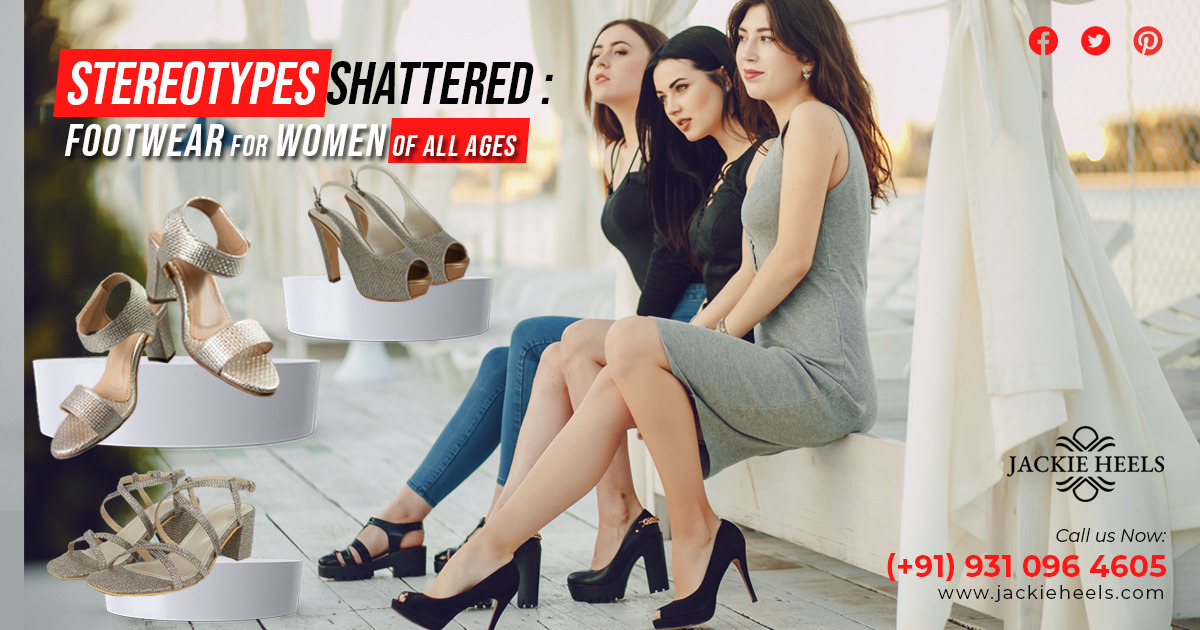 Traditional standards and preconceptions have influenced women's footwear preferences for years. However, things are changing, and Indian women's footwear is setting an example for how to challenge these social norms. At JackieHeels, we recognise the value of shattering the chains of convention, which is why we are pleased to provide a diverse selection of shoes that challenge preconceived notions and celebrate uniqueness. No matter if you're a young lady seeking "comfortable yet stylish options for young women" or an older woman searching for "elegant and sophisticated designs," our selection has you covered!
Showcasing brands that cater to different age groups
In our mission to embrace inclusion, we highlight products that appeal to women of all ages. Young ladies want for footwear that easily combines flair and comfort as they set out on their adventures. They will certainly fall in love with our carefully chosen collection of fashionable and stylish shoes, making it a must-visit location for anybody looking to Buy Women Footwear Online in Gurgaon or anywhere else in India.
Celebrating Every Size: Footwear for Women of All Sizes
As women continue to defy cultural conventions and reinvent beauty standards, it is critical to address body image concerns prevalent in the fashion business. This extends to the footwear industry, where JackieHeels, an established maker of footwear for women, is making audacious moves to embrace inclusiveness and diversity. They provide a large selection of fashionable designs and cosy alternatives for ladies all across India, making it simple for them to Buy Ladies Footwear Online in India. They do this since they recognise how important it is to cater to women of all sizes.
JackieHeels is a pioneer in terms of sizing variety. Their inclusive designs for plus-size women are proof that they believe beauty exists in all shapes and sizes. Women are no longer forced to give up on comfort or style due to their size. Plus-size ladies in Gurgaon and around India can securely Buy ladies Footwear Online in Gurgaon knowing they will get shoes that not only fit flawlessly but also make a statement about their own style.
But inclusion isn't only about catering to plus-size people; it's also about supporting tiny sizes with stylish designs. Women with small feet have special demands, and JackieHeels recognises this and works to meet their needs so they are not left out of the fashion world. These sizes are catered for in their sophisticated collections, which provide a plethora of stylish alternatives when customers Buy Ladies Footwear Online in India.
Embracing Diversity: Indian Ladies Footwear Redefining Fashion Norms
The fashion business is undergoing a tremendous change as diversity and inclusion are appreciated more and more in today's society. The significance of showcasing women from diverse backgrounds is now well understood by brands. Leading women's footwear company JackieHeels seizes the opportunity to promote diversity and inclusiveness in their range as the definition of fashion changes. It is the best site to Buy Women Footwear Online in Gurgaon, since their strategy goes beyond trends and concentrates on fashionable designs and comfort.
Footwear inspired by regional traditions and craftsmanship
JackieHeels has a deep appreciation for India's rich cultural heritage and its many distinct areas. Their particular line of footwear, which honours diverse regional traditions and workmanship, was inspired by this special understanding. With elaborate features and patterns that symbolise different regions of India, each design has a unique narrative. When you buy women's shoes online from JackieHeels in India, you're not just getting shoes but also a work of art that captures the country's rich variety.
Conclusion
JackieHeels is in the fore of this dramatic movement as Indian women footwear embraces inclusivity and diversity. Their current styles and emphasis on comfort make them the go-to place for people searching to Buy Women Footwear Online in India. JackieHeels offers a novel viewpoint to the fashion industry with a line that honours local customs and artisanal partnerships, shattering preconceived notions and empowering women from all backgrounds.